Rods, Reels, lines, tippet and flies for dorado destinations
(Upper Paraná River and Ibera Wetlands)
What gear should I bring? This is a question that we get quite often for dorados first-timmers.
We will engage this topic in different parts. Rods, Lines, and Flies.
RODS for dorado
We advise all of our first timers for a good 8 weight, 9 ft, 4-piece, fast action rod with a good fighting butt. This will let you cast the right flies from the appropriate distance without sweating (much). This will do for a primary and secondary rods. It is nice to have two rods strung up, with different lines, but we will address that later.
You can substitute a the 8 weight for a 9 weight, if thats what you have at home. Remember, all this are recommendations based on our experience.
We will make a special note here for the omnivorous species at the Upper Parana River. Its clear that the main target is the Dorado, but you will have a chance to target Pacu and Pira-pita if conditions are good. For these, you should bring a good 6wt 9 feet, with a fighting bat (so NOT the typical trout rod).
—
REELS
For REELS, we advise for Two or three quality reels with good drag systems. Reels should be loaded with a minimum of 150 yards of 30 lb backing.
—
LINES
Lines have to be "tropical" due to the water/air temperature in the area. As we said before, its nice to have two rods with different lines, but here is the deal.
For fishing the Upper Parana River we ask for one weigh forward floating line (WFF) – This would be for surface patterns, mainly for mice. And an intermediate clear tip for streamers.
At the Ibera Wetlands, as water is so clear, we only ask for two floating lines. One for surface patterns, and the other one for streamers.
Most of the tropical lines should do the trick, but here are the ones we recommend.
Tropical Floating Line: Scientific Anglers Mastery Jungle Titan.
Intermediate clear tip: Cientific Anglers Sonar Titan Jungle Clear Tip
As you will be using a 6wt rod for the omnivorous species (pacu and pira-pita), you will have to bring a matching #6 weigh forward floating line for that rod and reel.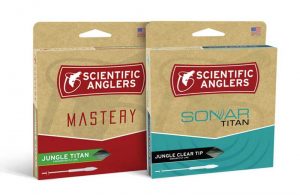 —
Leader and Tippet
Leaders for dorado should be 9 feet long, and the secret formula goes as follows: 5+3+1.
Five feet (5 ft) 0,7 mm mono + three feet (3 ft) 0,6 mm mono + one feet 40 lbs Wire Bite tippet.
You can also use the 8+1 formula: 8 feet of mono (0,7 mm for the Upper parana, and 0,6 mm for the wetlands), plus 1 feet bite wire.
Rio Saltwater mono (not fluorocarbon) 40 lbs (0,6 mm) / 50 lbs (0,68 mm).
Rio Wire Bite Tippet POWERFLEX WIRE BITE TIPPET 40 lbs (sku 6-22147) for dorado and 30 lbs (sku 6-22146) for pacu and pirapita.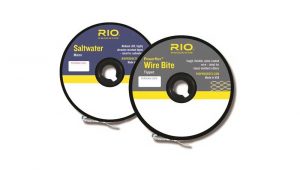 —
Dorado flies Patterns
All necesary flies will be included and provided by your guide, but in case you are curious, or you want to tie your own flies, you will find more information in another article.
0