Its important to understand every airline has its own policy regarding luggage, and not long ago low budget airlines started flying in Argentina. This article below applies only for Aerolineas Argentinas local flights.
The Baggage Franchise includes everything the passenger is authorized to transport at no charge according to the rate purchased. It includes what you dispatch as checked baggage in the hold and what you bring with you in the cabin, as carry-on baggage.
It should be taken into account that there are promotional rates that do not include baggage allowance having in these cases the option to purchase additional baggage in advance through the website, branch or contact center up to 3 hours before the departure of the flight with a fee preference.
Hand luggage
Argentine Airport Security will not allow you to carry on rods and or reel with loaded lines, so please be sure of have those on your check bags by the time to get to AEP in order to check in for flights while in Argentina.
For your safety and comfort on board, carry-on baggage must meet the maximum weight and measurements.
Measurements: Length 55cm, width 35cm, height 25cm (or 21.6 in Length, 13,8 in width and 9,8 in height). The sum of the three dimensions combined together, should not exceed 115cm (45,2 inches), including wheels, handles and side pockets.
Domestic flights: 1 piece of 8 kg. (17,6 pounds)
The check-in counters already have a measurement system of volumetric limitation; therefore, all hand luggage that exceeds the size allowed by these meters must be dispatched in the hold of the aircraft, since it cannot be located or the upper compartments of the passenger cabin or under the seats.
You cannot BOAT these items with you or in your carry-on baggage: Scissors, pliers, knives, cutters, files, knitting needles, punch, screwdrivers, cutting elements or punches in general.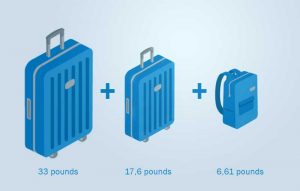 Personal item
You can carry a personal item, up to 3 kg (6,61 pounds) of maximum weight, whose dimensions do not exceed 40 cm x 30 cm x 15 cm (15,7 x 11,8 x 5,9 inches) and which can be located under the front seat (except in emergency exit seats and first rows), such as:
A handbag / purse, or a backpack, or a portfolio, or a case for laptop (Notebook / Netbook / Laptop or similar), or a case for a camera… In addition to a warm garment, an umbrella, a cane…
Luggage in hold
1 piece of 15 kg (33 pounds)
If any of the parts to be shipped exceeds the maximum weight allowed on the route you are flying, you will have to pay the charge of excess kilos. The purchase of excess weight can only be done in person at the airport.
Maximum weights within Argentina is 23kgs (50 pounds), if they are exceeded, those will be sent by Cargo.
The values for advance purchase are up to 3 hours before the departure of the flight and can be done through the web, Contact Center or our commercial offices.
Additional Baggage
You will be able to purchase an additional bag in advance through your agent or website, or at the airport at the moment of checking in. Rates vary in your favor is you do it in advance.
More information
Fishing equipment
Sports equipment, musical instruments and audiovisual equipment are considered special baggage and can be transported in the hold of Aerolíneas Argentinas and Austral flights. They are not part of the franchise allowed according to the rate purchased; therefore, an additional charge is applied with fixed values that depend on the route.
More information
0